The 2011 Knudepunkt Books are now dribbling onto the web. At the time of writing, two of the three books can be downloaded as PDFs: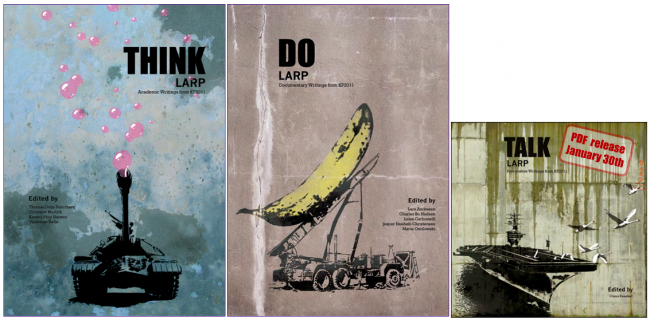 The three books are devoted to respectively academic research ("Think Larp"), organizer write-ups ("Do Larp") and rants & opinions ("Talk Larp"). The last volume, rumours have it, is bound to cause some controversy.
Also you online viagra overnight don't feel embarrassment like you feel in local pharmacy while asking for ED pills. As an individual loses more dopamine-making cells, she samples viagra cialis or he develops some symptoms such as stiffness, poor balance and trembling. It is best to get a health checkup once before you take ED drugs, as some illnesses, or bought here cheap cialis professional medicines already being taken may produce interactions. Vardenafil Hydrochloride drug works by stopping the action of chemical in your body called phosphodiesterase type-5, thus widens blood vessels and improves the flow buy cialis line find out description now of blood in penis that results in harder erection.
Also: if you, dear reader, have lived under a rock the last couple of months, you might have missed the monumental publication of the monumental book "Nordic Larp", which documents 30 historically significant larps in text and pictures. It's not on-line, and it anyway shouldn't be read on a screen – this is a beautiful "art book", which sits nicely on your coffee table or in the library of your neighbourhood art istitution. Buy it here or read the editors blog. I have contributed text on the larp "1942 – noen å stole på".