Six couples. A cafè. 3 hours. No orcs, goblins, mystical orders, spies, asassins, or any kind of extraordinary characters. No magic, combat, violence, mystique, politics, or any kind of extraordinary drama. Just regular people, struggling to save or sever their relationships.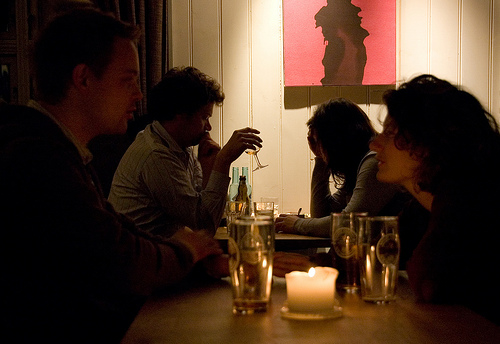 It was, of course, a larp – more precisely: Erlend Eidsems "Love in the Age of Debasement". And the most interesting part of the larp was the innovative way it used written characters to construct the drama.
Most larps that have pre-written characters use some kind of life-story narration to define who the character was, and any past events that might motivate the character to act in certain ways during the larp. For example, Zorro might have killed your father three years ago, giving you a motivation to comitt revenge during the larp.
Half of the characters at "Love in the Age of Debasement", the ones written by co-author Geir Tore Brenne, were done in this style. It's a functional style of character writing – players usually "get it", understand what the larpwright wants with the character. And if the writer manages to restrain himself from excessive decoration and unfocused narration – which Geir Tore certainly did – they can be eminently role-playable.
The interesting thing, however, are the characters written by Erlend Eidsem. Here's a sample:
Not everything at once.
Bit by bit. Maybe
Have to pinch in.
Not so easy to hold it back.
Not anymore.
Everything changing.
All the time.
Leakages. In the panties.
Hourglass dripping. Sand hitting the bottom.
Time is running out. Bottom gets big and bigger.
The Blood! All this blood. Where does it come from?
The color? Brown?
Why always so brown?
Never thought of that. Ending. Beginnings. All ends are new beginnings.
What am I going to do?
Will it ever come? It always does..
Might go to examine it.
Just not alone.
What's going on here? This is poetic form, reflecting not what the character did, but how she feels, what she is thinking, in the disjointed style of actual thought. But there's more.
Something growing innside of me. THAT feeling. I never have felt it before.
Body is melting, floating. Life. Magic. Universe. Who could have known?
Me and HIM..
..and one more! I do know that this is not really the time.
Do I dare? Do I have the will?
Can I ever do anything?
"Meltdown towards another life?"

Bye, bye party
Bye bye Me.
From now on : We.
The stage is set: An unexpectedly pregnant woman, sitting in front of her boyfriend, wondering what to do about the pregnancy, what to tell him. Except this is not something that happened pre-larp. This, per the organisers instructions, are things she will think during the larp. It is a an attempt at filling the players mind with the same thoughts and images that are meant to be in the characters mind. They just happen to be written down beforehand.
Do I have the courage to remove it? Shit, fuck, forever – rest of my life? And longer?
Do I have to courgage to keep it?
Am I mature enough – is it actually mature to keep it?

Babycarriages. Eternal rows of baby carriages. Lines. Mothers. Standstill.
You are in that queue. Right now, but you thought you were free of the whole system.
Your age. My education. My opportunities.Will this splinter the thin threads woven in between us.
This is not Circus Merano. This is life.
The masquerade is over. Cannot find the right mask. Finding no mask.
Tonight it is only children. Rubbernipples. Curtains of Winnie the Pooh.

After the mask there is the wound. Aching. Reality bites.
Am I really ready to take that much sunlight.
I am an angel of the night. I hate Maria Magdalena. I hate virgin Mary.
GOD! – go back were you came from.

Christening, Baptising?
Meandering thoughts – one moment detesting the pregnancy, the next moment taking it for granted. These are not clear, indisputable instructions to the player. They follow the path of the characters thought, and allow the player to determine whether and how to express those thoughts in words and actions.
Which decision will she take? One ending is suggested by the final paragraph:
Cries. Tears that drip. Leakage in the panties. Blood. Small drops of blood. Everywhere
.Will it hurt? Oh, stay with me! Someone.. Anyone.. I need everybody. More than ever.
I need him. You have become WE. I am WE. US three.
Another ending, and a completely different narrative, is suggested by the character of her partner:
Looking her straight into the eyes.
Total penetration. Taking off.Riding the highway.
She is so horny. She is so hot.You and her. The forever party.
Forever dancing. Forever young.
Knocking off – HARD. Harder than ever before.

(…)

It's the rule of the game: No relationship, no commitment, maximum passion. Until it dies..
Bye, bye honey… and hello, again.
(No happy families here – this was a larp about love going wrong)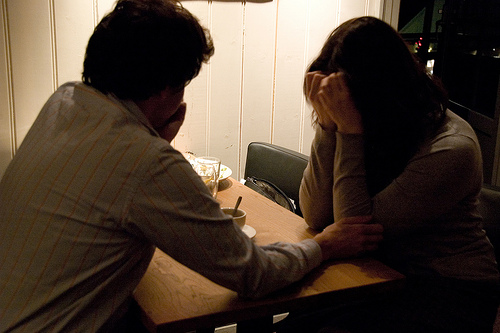 How did these characters work in play? The players who received them generally loved them. Since the setting was highly structured (you're a couple in difficulties, at the cafè, reach the climax of argument when the DJ plays your song) the texts were easily interpreted and easy to draw inspiration from.
Character style as influencing player style
Since the larp both contained Erlends "pre-emptive" poetic flow-of-consciousness characters and Geir Tores ordinary retrospective characters, it serves as an interesting test bed of writing styles.
And, at the run I attended, the difference was visible in role-playing: the retrospective characters tended to end up more rational, more verbal, more argumentative than the pre-emptive ones. The players of the pre-emptive characters, by contrast, were more likely to express emotion, more likely to use body language, more physically present than those of pre-emptive characters. Their characters were simply less rational than the retrospectively written characters.
Obviously, 12 players at a cafe are not enough data to draw this kind of conclusion with anything close to certainty. But since Erlend and Geir Tore plan to re-run the larp in the future, and perhaps publish it on-line, we'll probably be able to test and re-test this hypothesis several times in the future.
Love in the age of debasement
Concept by Erlend Eidsem. Originally done as a Dogma larp at Sydcon, 2001.
Second edition by Erlend Eidsem and Geir-Tore Brenne. Held in the Laivfabrikken ("larp factory") network, autumn 2009, Sagene Lunchbar, Oslo.
2.5 hours of play. 12-14 players, 2 organisers, one photographer.